Nothing in South Carolina's statutes designates online gambling as legal or illegal.
In the southeastern region of the United States, South Carolina shares a coast with the Atlantic Ocean on the east, and borders with North Carolina on the north, and Georgia to the south and west.
South Carolina's Best Real Money Gambling Sites
Casinos
Sportsbooks
Poker
Casinos
Sportsbooks
Poker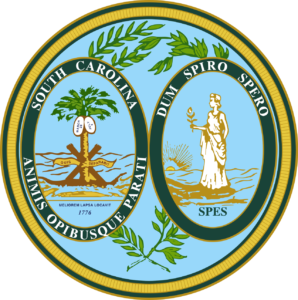 South Carolina Gambling Overview
Abbreviation: SC
State Motto: While I breathe, I hope.
Capital City: Columbia
Population Estimate: 5 million (23rd)
Website: http://www.sc.gov/
There is not much legal gambling in South Carolina outside of a state lottery and charitable gambling. Horse racing is even limited to certain events that must be cleared by the state.
Gambling statutes addressed in the South Carolina Code of Laws are primarily concerned with illegal activities and potential crimes, such as anything having to do with cards or dice, gaming tables, or any gambling machines or devices. There is no mention of computers or internet gambling, though, and the topic has not yet been addressed.
Social gambling is illegal as well, with the sole exception being members of a club or social organization, though that is a rather broad category.
There was a 2005 Gambling Cruise Act which allowed South Carolina counties and municipalities to prohibit or regulate cruise ships that offer gambling. In essence, they could allow the gambling to continue as the ship is docked or prohibit all gaming activities within a specified distance from shore.
As an example of how antiquated the laws of South Carolina remain, there is a section of a gambling chapter that specifies the illegality of keeping gaming tables open or playing any games on the Sabbath, which for most is on Sundays.
"Whoever shall keep or suffer to be kept any gaming table or permit any game or games to be played in this house on the Sabbath day, on conviction thereof before any court having jurisdiction, shall be fined in the sum of fifty dollars, to be sued for on behalf of, and to be recovered for the use of, the State."
Most Recent Developments
Several representatives of South Carolina have been active in the effort to pass a federal law called the Restoration of America's Wire Act (RAWA) that would ban online gambling in all states. US Senator Lindsey Graham has been the most vocal about said law, as well as requesting that the US Department of Justice reverse its 2011 interpretation of the Wire Act that allowed states to legalize and regulate online poker, casino games, and lotteries as they saw fit. The state's attorney general has also been a supporter of RAWA-type legislation.
Surprisingly, there was a bill introduced in 2017 to the legislature to legalize pari-mutuel betting on horse racing, sports betting and some casino gambling activities. However, the bill has attracted little support. Any movement in the direction of the bill's passage would constitute a major shift in general sentiment.
As it stands, the bill was not enacted prior to the close of the legislative session, but a new bill was introduced at the start of 2019.
There was also a daily fantasy sports (DFS) bill introduced in 2016, but it failed.
South Carolina Online Gambling FAQ
Can I play for real money on your recommended poker, gambling, and betting sites?
There are sites that offer various online gambling options to South Carolinians.
Does state law enforcement intend to crack down on internet gaming?
This is doubtful. South Carolina is generally opposed to most types of gambling, but there seems little interest in pursuing the sites that currently offer internet games, as they are based and licensed in various global jurisdictions and not easy to prosecute. The expense and difficulties involved are likely prohibitive, and there has been no indication that the state is considering any action.
Should players be worried about a crackdown?
No. With so little to be gained by banning online gambling in general, there is even less of an incentive to try to prosecute players themselves. Finding players would constitute a major violation of the right to privacy, and lawsuits would abound from civil rights organizations, something the state likely has no interest in becoming involved with.
What if one of your recommended sites shuts down? Will I get my money?
Yes. When we recommend an online gaming or sports betting site, we ensure that they are licensed, and those licenses require that the operators keep player funds safe and secure. In the case of a site shutdown, players should have access to their account balances, the same as if a site chose to withdraw from a state or country market.
How do I deposit and withdraw money from these sites?
Players in South Carolina have several options for depositing funds. While the available methods often vary from one site to another, most offer a debit or credit card and bank transfers options. Withdrawals tend to be limited to checks, but some do offer ewallets or bank transfers. One popular option for new players is to use bitcoin if the site offers it. Bitcoin players can use that cryptocurrency for both deposits and withdrawals, the former being very fast and the latter being quicker than any other option. Check with your favorite site for details and any assistance required from customer service.
Are there any land-based casinos in South Carolina?
Yes. There are a couple casinos around South Carolina, below is the one notable casino in the state worth travelling to: