Utah laws state that all types of internet or online gaming are illegal.
Utah is located in the western United States, bordered on the east by Colorado, Wyoming and Idaho to the north, Arizona to the south, and Nevada to the west.
Utah's Best Real Money Gambling Sites
Casinos
Sportsbooks
Poker
Casinos
Sportsbooks
Poker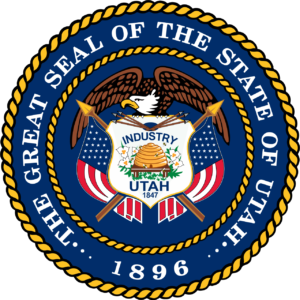 Utah Gambling Overview
Abbreviation: UT
State Motto: Industry
Capital City: Salt Lake City
Population Estimate: 3.1 million (31st)
Website: https://www.utah.gov/
Quite simply, there is no legal gambling in Utah, not even a lottery. There are no racetracks, no Native American casinos, no DFS, ad certainly no online gambling or sports betting.
Utah has a long history of a highly religious population, mostly Mormon. The state has prided itself on steering clear of sinful temptations like gambling. Even alcohol sales have numerous restrictions. Lawmakers tend to be quite conservative and have no interest in legalizing any forms of gambling.
The state's code contains numerous definitions pertaining to gambling, including the word gambling itself, and it states that the element of chance or skill is not relevant to determining if the activity is illegal. Merely, it is the risking of anything of value to receive something of value for a certain outcome.
The only exceptions to most gambling rules are lawful business transactions and certain amusement devices, of which the state has numerous restrictions.
Internet gambling or online gambling is specifically noted in the Utah code, noting that misdemeanor charges can be brought for anyone who participates in it, permits it, or uses equipment to facilitate it. The wording of the statute goes even further to state that should the United States pass a law legalizing online gambling but provides a way for states to be exempt, Utah wants to be exempt. The definition of internet gambling seems to cover all bases:
"Internet gambling or online gambling means gambling or gaming by use of the internet or any mobile electronic device that allows access to data and information."
Most Recent Developments
As no surprise, there have been no attempts in Utah to legalize and regulate online poker, online gambling of any kind, sports betting, or fantasy sports.
The most recent legislation passed was to close a loophole by which certain businesses were offering video gaming machines that skirted the law by offering players gift cards in exchange for the money they gambled. This prompted legislation to label these efforts as fringe gambling and outlaw it specifically. That happened in 2018.
It is also not surprising that Jason Chaffetz, former member of the US House of Representatives from Utah, was one of the most outspoken proponents of the Restoration of America's Wire Acts (RAWA). This bill was introduced several times and in various ways to Congress in the hopes of banning all online gambling for all states. His efforts failed, but he regularly spoke at hearings about the purpose of the Wire Act and how its reversal by the Justice Department in 2011 caused confusion. He also argued that geolocation, which has been fully successful for states like Nevada, Delaware, and New Jersey to ensure players are located in the states that legalized gambling, was not possible. He resigned from his House seat in 2018.
Utah Online Gambling FAQ
Can I play for real money on your recommended poker, gambling, and betting sites?
There are sites available, despite the clarity of Utah's internet gambling laws.
Does state law enforcement intend to crack down on internet gaming?
It is possible. Utah is so vehemently opposed to most forms of gambling, and many in the state government are bothered by the ability of some online gaming and sports betting sites to reach players in their state. If Utah found a way to take action against the site operators that would not likely be challenged in court, there is the possibility they will pursue it.
Should players be worried about a crackdown?
Maybe. While no state has ever gone after online poker players or sports bettors, Utah is a unique situation. Trying to prosecute players would likely draw numerous lawsuits from players and civil rights organizations alike, so it seems that most legal advisors would suggest not taking action against players. But it is unclear what Utah may do, so players should proceed with caution.
What if one of your recommended sites shuts down? Will I get my money?
If a site is forced out of the Utah market, there will be ample opportunities for players to withdraw their account balances. If a site shuts down completely, sites are required by the tenets of their gaming licenses to keep player funds safe and pay them promptly.
How do I deposit and withdraw money from these sites?
Utah players have unique troubles. If trying to deposit funds to an online account related to gambling or betting, banks will probably deny wire transfers and debit card transactions. Credit card companies may block those deposit attempts as well. Withdrawals are easy enough to process by check, but players should even be careful that banks could even reject those checks and refuse to honor them. Players in Utah should consider using cryptocurrency for all transactions. Bitcoin is now accepted by most sites, and it allows for fast deposits as well as withdrawals, all unanimously with no traceable paperwork trail. Check with your favorite site and ask any cryptocurrency questions of a customer service agent, who can walk you through the process of establishing a bitcoin account.