The laws in Washington make clear that internet gambling and sports betting are illegal and prosecutable as felonies. 
Washington is the northernmost of the contiguous United States, and its corner of the country finds the Pacific Ocean to its west and Canadian province of British Columbia to its north. Oregon lies to the south and Idaho is on its eastern border.
Washington's Best Real Money Gambling Sites
Casinos
Sportsbooks
Poker
Casinos
Sportsbooks
Poker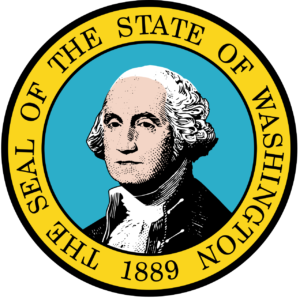 Washington Gambling Overview
Abbreviation: WA
State Motto: Bye and Bye
Capital City: Olympia
Population Estimate: 7.4 million (13th)
Website: https://access.wa.gov/
The people of Washington are no strangers to gambling. There is licensed horse racing and pari-mutuel wagering, as well as charitable gambling opportunities like bingo and raffles.
The Washington State Gambling Commission was created in 1973 to regulate pull-tab games and punchboards that were legalized, and legal social card rooms were authorized the following year. In 1982, the legislature approved the lottery.
In the 1980s, several Native American tribes began to make their foray into the gambling world. So, when Congress passed the Indian Gaming Regulatory Act in 1988, those and many other tribes were ready to negotiate their compacts with the state to set up gambling establishments. The Tulalip Tribe was the first to open its new casino in 1992 with compact in hand, while all others followed. As of 2018, all 29 federally-recognized tribes in Washington have gaming compacts.
Washington's gambling laws are neatly packaged into the state code, with many details outlined in the crimes and punishments section of Title 9. And it starts by noting: "The public policy of the state of Washington on gambling is to keep the criminal element out of gambling and to promote the social welfare of the people by limiting the nature and scope of gambling activities and by strict regulation and control." It goes on to discuss the "evils induced by common gamblers" and the malicious affect that gaming has on the public.
In addition, internet gambling is specifically designated a crime with this statute:
"Whoever knowingly transmits or receives gambling information by telephone, telegraph, radio, semaphore, the internet, a telecommunications transmission system, or similar means, or knowingly installs or maintains equipment for the transmission or receipt of gambling information shall be guilty of a class C felony."
Most Recent Developments
Social card rooms are legal in the state of Washington but regulated by individual jurisdictions, 70 of which have banned social poker. The house-banked games do have restrictions, such as a maximum of 15 tables per establishment and a minimum of two players per game. Some jurisdictions have decided to allow existing card rooms to remain while banning new ones, but all of the confusion has led to numerous lawsuits through the years. It remains an issue of contention in many areas due to the contrasts between state law and local decisions.
Internet gaming has also been an issue in the state since before the passage of the 2006 Unlawful Internet Gambling Enforcement Act (UIGEA) in 2006, as the games are not only illegal, but players can be prosecuted as felons for the activity.
The Poker Players Alliance sued the state in the late 2000s on the basis that the internet gambling law in Washington was unconstitutional and violated the US Constitution's Commerce Clause. But the court ruled for the state, saying the state had the right to enact the ban, leaving the court no room to judge the pros and cons of internet gambling. It was decided that the state did not discriminate or violate commerce laws by banning the games online.
Lawmakers have introduced online poker legislation nearly every year since in an attempt to reverse the law and legalize the games. However, the tribes of the state are not collectively interested in participating in an online gambling industry, so the bills never make much progress.
After PASPA most states moved towards some form of legalizations, and so did Washington State. Two sports betting bills were introduced in February 2019. House bill 1975 would authorize sports wagering on a limited scale by restricting it to tribal casinos within the state. The other proposed bill -House bill 1992 – would permit sports betting only on-site at licensed horse racing tracks. It is to be noted that neither bill would permit mobile sports wagering throughout the state.
Washington Online Gambling FAQ
Can I play for real money on your recommended poker, gambling, and betting sites?
There are sites that offer real-money online gambling to players in Washington.
Does state law enforcement intend to crack down on internet gaming?
The state of Washington has threatened to take action against sites and players, especially with the 2005 establishment of a special internet gaming task force. The intention at the time of the 2006 Unlawful Internet Gambling Enforcement Act (UIGEA) and after was to prosecute all sites that did not block Washington players from opening accounts. However, more than 10 years later, the state has yet to take any of those actions. It remains unknown if the state will do so.
Should players be worried about a crackdown?
It is tough to say. Washington keeps a tough stance on internet gambling and will not consider updating or changing the laws. Even so much as playing poker online remains a felony. While the state has yet to prosecute any players for doing so, it remains a tricky situation for players. It is suggested that players speak with an attorney if there are significant concerns.
What if one of your recommended sites shuts down? Will I get my money?
Yes. The sites we recommend here are licensed with reputable gaming entities, and one of the requirements of licensing is to responsibly segregate player funds from other company money. This ensures that players will be paid in various situations, whether the site leaves a particular market or shuts down completely.
How do I deposit and withdraw money from these sites?
This can be tricky, though any site that caters to players in the state of Washington offers options. Most Washington banks will not process wires or any type of account transfers, but some debit and credit cards might work. Ewallets can sometimes be an option as well for deposits. For withdrawals, however, checks remain the only option for most players. This is why players, especially in Washington, are starting to use bitcoin. The form of cryptocurrency maintains a player's anonymity while also acting as a deposit and withdrawal tool. Check with your favorite site for details.
Are there land-based casinos in Washington?
Yes. There are several choices of casinos and Indian casinos across the state of Washington.