Alabama online gambling is currently undefined in the state's legislation. The Sports Wagering Commission was set up in 2019 to oversee the regulation of sports wagering in the state.
However, this did not lead to any further legalizations for more gambling activity. Like many other states, there is no law definitively for or against online gambling in the Heart of Dixie.
Alabama's Best Online Betting Sites
Certain providers will accept Alabama residents on their trustworthy websites. Below you will find our current recommendations for the best gambling sites for Alabama residents.
Casinos
Sportsbooks
Poker
Casinos
Sportsbooks
Poker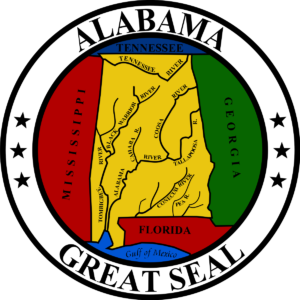 Gambling in Alabama: An Overview
Alabama is situated in southeastern America. It is bordered by Tennessee, Georgia, Florida, Mississippi, and the Gulf of Mexico.
Abbreviation: AL
State Motto: We dare to defend our rights.
Capital City: Montgomery
Population Estimate: 4.8 million (24th)
Website: https://www.alabama.gov/
Alabama is one of the states with the least amount of legal gambling. Despite new bills nearly every year in the hopes of finding enough support to pass lottery gambling, betting is rare.
Alabama's Constitution declared gambling illegal in 1901. A crackdown on illegal gambling establishments and connections began. In 1971, the Alabama Supreme Court ruled pari-mutuel wagering at the horse, and dog tracks to be legal. Because there was an element of skill that separated it from traditional gams of chance like the lottery. That ruling allowed numerous race tracks to open.
In the late 1970s, Alamba considered a constitutional amendment to legalize bingo to raise money for charitable organizations. The campaign was successful. However, each county had to approve bingo halls, and many have done so in subsequent years.
Electronic bingo was approved in the early 2000s. But its legality has been the subject of much debate.
The 1988 Indian Gaming Regulatory Act (IGRA) permitted Native American tribes to negotiate gambling contracts with their states. The Poarch Band of Creek Indians was the only Alabama tribe to complete a compact. They have opened several casinos that offer bingo and slot machines. No table games like poker are allowed.
Definitions of gambling and other pertinent terms are listed in Title 13 of the Code of Alabama. Social games in private places are exempted from traditional gambling crimes.
Alabama online gambling is not regulated. The state code does not mention any type of wagering done via the internet. As a result, many sites accept Alabama players.
Online Gambling Legislation in Alabama 2021
Lawmakers in Alabama debated the lottery for several years. A new bill was introduced in 2018 to legalize the lottery since it is one of only six states that do not currently allow it.
The 2011 US Department of Justice decision regarding the Federal Wire Act allowed states to legalize online poker and casino games as they deemed necessary. But Alabama has yet to consider a bill to exempt those games from its gambling prohibitions.
Many states in America began anticipation in 2018 about the US Supreme Court decision about sports betting per a case brought by New Jersey. While Alabama did not join New Jersey in its case, many other states did.
In early April 2019, a 44-page bill was finally introduced that would "permit wagering on certain professional or collegiate sports or athletic events and other events." Under this new bill, Alabama Sports Wagering Commission would regulate sports wagering in the state.
In May 2021, a plan for a lottery, six new casinos, and sports betting was brought to the House of Representatives. Despite being endorsed by Governor Kay Ivey, the plan did not receive enough support, and it did not make the floor for consideration.
However, there is some hope for lottery and casino gambling in Alabama. A ballot is expected to go to voters in the state that would support gambling expansion and regulation. This requires a constitutional amendment and would not take place until 2022.
Alabama Gambling FAQ
Can you gamble online in Alabama?
Yes. Some online sites accept Alabama residents on their platforms.
Is there gambling in Alabama?
Some forms of gambling are available in Alabama but only on Native American Land. These casinos offer bingo and slot games. However, traditional table games and poker are not permitted.
Is online bingo legal in Alabama?
Online bingo sites in Alabama are not legal within state lines. But some online operators do provide online bingo games for residents.
Does Alabama have land based casinos?
Yes. However these Alabama casino are run by the Native Americans. In fact there are in total five casinos in Alabama, two of the five are racetracks which offer pari-mutuel wagering. The other three tribal casinos include the following: