There is nothing specific in Nebraska's laws that speaks to the legality or illegality of online gambling.
Nebraska is considered a part of the Midwest as well as the Great Plains states and is landlocked in the center of America. South Dakota shares a border to Nebraska's north, Kansas to the south, Iowa and Missouri to the east, and Colorado and Wyoming to the west.
Nebraska's Best Real Money Gambling Sites
Casinos
Sportsbooks
Poker
Casinos
Sportsbooks
Poker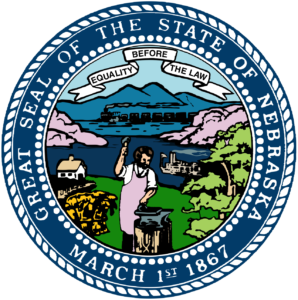 Nebraska Gambling Overview
Abbreviation: NE
State Motto: Equality before the law.
Capital City: Lincoln
Population Estimate: 1.9 million (37th)
Website: http://www.nebraska.gov/
Nebraska was one of the first to set up a commission to regulate its betting with the 1935 launch of the Nebraska State Racing Commission. That horse racing and pari-mutuel wagering was legal for decades before the voters of the state decided to add to it by approving the lottery in 1992.
There are well over a dozen Native American tribes in Nebraska, so when Congress passed the 1988 Indian Gaming Regulatory Act (IGRA), many of them wanted to take advantage of the new law. Several stepped up to negotiate compacts with the state so they could offer gambling on their reservations, and three succeeded. The Winnebago, Omaha, and Santee Sioux tribes all offer games like bingo and slot machines. However, there are still no allowances for table games like poker.
The Nebraska Code lays out the laws and penalties related to gambling. Some definitions are standard, such as gambling and players. Gambling devices are described in a way that does not include computers, so internet gaming is not defined in the law.
Games of chance or skill are not addressed in the code, though the Nebraska Gaming Commission touches on the topic in its FAQ section. It notes that keno, bingo, and the lottery are not games of chance, so they do not qualify as gambling, though the explanation goes no further into games like poker that have been proven to require skill for long-term winning.
The only pertinent section with relation to jurisdiction, which could pertain to internet gambling is in relation to prosecuting crimes:
"It shall be no defense to a prosecution under any provision of this article relating to gambling that the gambling is conducted outside this state and is not in violation of the laws of the jurisdiction in which it is conducted."
Most Recent Developments
Nebraska lawmakers have shown little interest in expanding gambling to include fully-functional casinos with table games or most types of online gambling. Even with the decision by the United States Supreme Court via a New Jersey case to allow states to create their own laws regarding sports betting, there has been no  prompted  legislature to take up a bill to that effect.
Daily fantasy sports (DFS) is another story, however. A bill first drafted in 2016 was discussed in a limited manner in 2017 but still made no significant strides. The proposal to regulate and legalize paid-entry DFS did carry over to 2018, though, and was involved in some debates in January and February. The bill has stalled since then but may pick up steam just before or after the summer legislature break, as many other states have legalized DFS in the past year.
Nebraska Online Gambling FAQ
Can I play for real money on your recommended poker, gambling, and betting sites?
Nebraska players have several sites from which to choose for online gambling and sports betting.
Does state law enforcement intend to crack down on internet gaming?
There have been no indications that Nebraska is geared to take any legal steps toward shutting down online gambling options in the state. Since the sites currently operating there are based and licensed offshore, there are many difficulties in trying to press charges against the operators or their executives.
Should players be worried about a crackdown?
No. The most that Nebraska could probably do would be to require internet service providers to block Nebraska players from accessing a particular site. In any case, there is virtually no chance that players will be pursued or prosecuted in any way.
What if one of your recommended sites shuts down? Will I get my money?
The sites we list on our page adhere to the regulations of the jurisdictions that license them, which means they are most likely required to segregate their funds to keep player monies safe and separate from operating expenses. In the case that a site leaves a market or even shuts down entirely, players should have ample time to transfer or withdraw their account balances.
How do I deposit and withdraw money from these sites?
The deposit and withdrawal options vary from one site to another, but each will offer multiple options. Most often, there will be a debit/credit card option and possibly an ewallet for deposits, though withdrawals are generally limited to checks by courier. The newest addition to most lists, however, is bitcoin, a cryptocurrency that can be used for deposits and withdrawals. Many new players are using this option for ease and anonymity, though other methods remain available.
Are there land-based casinos in Nebraska?
Yes, however all four of the casinos in the state are found on the eastern side of Nebraska.