The laws of South Dakota specifically address all internet gambling as illegal.
Located in the Midwest United States, South Dakota is a landlocked state bordered by North Dakota to the north, Minnesota and Iowa on the east, Nebraska to the south, and Wyoming and Montana to the west.
South Dakota's Best Real Money Gambling Sites
Casinos
Sportsbooks
Poker
Casinos
Sportsbooks
Poker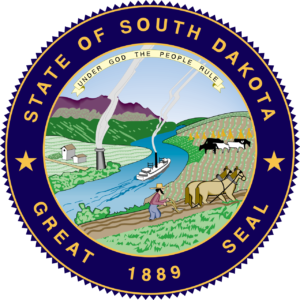 South Dakota Gambling Overview
Abbreviation: SD
State Motto: Under God, the people rule.
Capital City: Pierre
Population Estimate: 865K (46th)
Website: http://www.sd.gov/
While South Dakota has offered legal horse and dog racing, along with off-track pari-mutuel wagering, for many years, the state remains an interesting example of a gambling dichotomy. Most of the state only offers the racing and the lottery, which was legalized by voters in 1986 and the legislature the following year. But one city has a plethora of gambling options.
The city of Deadwood voted in 1988 to allow gambling, and not just bingo. Establishments could offer everything from slot machines to table games like poker and blackjack, and other traditional casino games like keno, craps, and roulette. Initially, bets were limited to $5, but everyone quickly realized the constrictions were unrealistic, so maximum betting was raised to $100. And there weren't just a few casinos around town; the number quickly grew to more than two dozen gambling facilities.
At the same time, Congress passed the Indian Gaming Regulatory Act (IGRA) in 1988 to allow Native American tribes in any state to negotiate compacts for gambling opportunities. There were nine tribes in South Dakota that wanted to do so. They secured compacts for the casinos, of which there are now nine located on reservations throughout the state.
Most of the South Dakota gambling laws are standard, with crimes for operating illegal gambling set as misdemeanors. But the legislature then added an addendum to address internet gambling, including definitions for everything from the internet to computer services and betting. The crimes could be prosecuted by the South Dakota Attorney General, or any attorney representing a county with a stake in the matter. And violations of the law are felonies.
Internet betting by people engaged in gambling businesses is prohibited, as is the establishment of an internet gambling business:
"No person engaged in a gambling business may use the internet or an interactive computer service to bet or wager. No person may establish a location or site in this state from which to conduct a gambling business on or over the internet or an interactive computer service."
Most Recent Developments
There have been no indications that South Dakota has or would consider legalizing internet poker or casino games. While the city of Deadwood might approve, the entire state would likely not be in favor, which is why there have been on legislative proposals to that extent.
In 2014, the Lottery Commission did propose an extensive study to research various types of gambling expansion, as well as the financial and social impacts of the gambling already permitted. Lawmakers encouraged the study so as to possibly increase the number of video lottery machines in certain locations, as well as to understand their options going forward. However, the cost of the study became prohibitive, and with no other agencies willing to help defray the cost, the commission decided against the research.
South Dakota has not even debated a bill for daily fantasy sports (DFS) or sports betting as many surrounding states have done. With that said, on Jan. 25, 2019, over two dozen South Dakota lawmakers filed a joint resolution proposing and submitting to the voters an amendment to the Constitution of the State of South Dakota, regarding the notion of wagering on sporting events. If enacted, the amendment permitting sports betting could be on the ballot in 2020.
South Dakota Online Gambling FAQ
Can I play for real money on your recommended poker, gambling, and betting sites?
Numerous sites are available for South Dakotans to use for online gambling and sports betting.
Does state law enforcement intend to crack down on internet gaming?
The chances of South Dakota pursuing offshore gaming sites for any type of prosecution are slim, despite the attorney general having the explicit authority to do so. The state would have to go outside of the United States to take action against any of the sites, as they are licensed and based in various locations around the world. It would be an expensive and complicated undertaking.
Should players be worried about a crackdown?
No. There has yet to be a state that has chosen to charge players with any criminal activity for playing games online via operators that are licensed. Players can feel safe that they will not be the targets of any type of statewide crackdown.
What if one of your recommended sites shuts down? Will I get my money?
The sites we recommend are licensed, and no matter the jurisdiction, the world's major regulators require that their licensees keep player funds separate from all operating funds. This ensures that player money is safe and can be paid no matter what happens to the company. And should a site choose to exit the South Dakota market – or even the US market – players will be given ample opportunities to withdraw their funds.
How do I deposit and withdraw money from these sites?
The most popular method used today is a form of cryptocurrency called bitcoin. Most sites now offer it as an option for both deposits and withdrawals, and players love the speed of the money transfers as well as the anonymity bitcoin provides. There are other options as well, though, such as checks for withdrawals and methods like credit cards and ewallets for deposits. There may be other methods available, too, so it's best to check with your favorite site and even contact a customer service representative to discuss any questions or concerns.
Are there any land-based casinos in South Dakota?
Yes. Not only known for Mount Rushmore, the state of South Dakota is also known for its popular gambling.